Have you ever witnessed unexplainable events, or seen illusions so convincing that they leave you fascinated...almost spellbound?
More importantly, have you ever seen what happens to a group of people that experience a "magic performance" up close? A high-energy excitement develops that's contagious.
There's amazement...laughter...discussion... and a new-found feeling of togetherness that is enjoyed by all those who witness the seemingly "unexplainable" (although they're bound to try!)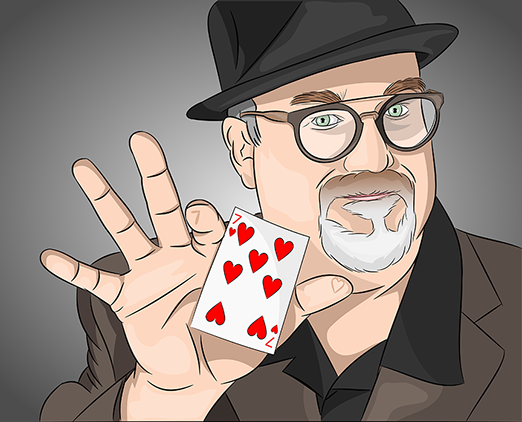 For the last 30 years, the Magic of Christopher has been bringing this type of excitement to company and private events both large and small. Incorporate his talents into your next special occasion and an upbeat and positive atmosphere will almost be insured.
For corporate groups, his fast-paced performances, hands-on illusions, and specially-planned humor can be custom- tailored to deliver a specific message about your company or product — a message that could help your next function be an incredible success.
For private events, Christopher can make your occasion truly memorable with either strolling close-up magic or an interactive stand-up show that your guests will remember forever.
In any event, Christopher will have you believing in magic!
The perfect entertainment for...
CORPORATE EVENTS — Trade Shows, Grand Openings, Promotional Events, Holiday Parties, Company Outings, Sales & Training Meetings, Conferences, Client Appreciation Parties, etc.

PRIVATE EVENTS — Birthday Parties, Wedding Events, Anniversary Parties, Bat Mitzvahs,
Holiday Parties, Family Parties — any occasion!
A partial list of clients...
Aetna • ATT • Bayer Corporation • Burger King Corporation • Bristol Meyers • CIGNA
Cooper Instruments • Dutch Point Federal Credit Union • Eli Lilly • Foxwoods Casino & Resort Gamewright • General Electric • Geodesign • Liberty Bank • Magner Corporation
Mohegan Sun Casino & Resort • NCR • Orthopedic Associates of Hartford
Pitney Bowes • Suzio York Hill • SYSCO • Tangers Outlets • Ulbrich Steel
. . .and many, many others!
"Having worked with others in your field, I will tell you that you are a pleasure to work with and certainly one of the best talents in your field. Feedback from our attendees has already started coming in with high marks for your performance."
— Bruce L. Richardson, District Marketing Manager, The Patrons Group
"...you were a hit with Department of Banking employees and your performance was listed on their evaluations as one of the highlights of the program."
— John P. Burke, Commissioner, State of CT Department of Banking
"You kept our guests captivated by your humor and the excitement of your tricks for hours."
— Jill Rodemyer, Director Sales & Marketing, Holiday Inn - Chicago - O'Hare Airport
"Even after three days... we were still fascinated. Not only did we have a flock of customers in our booth at all times, but he also wrote orders for our company!"
— Alison Yada, Director Marketing and Sales, Gamewright, Inc.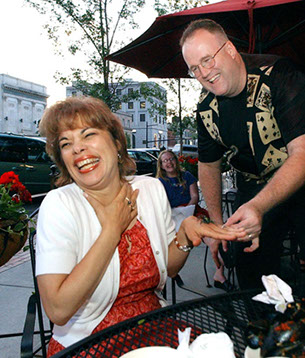 "I am very pleased to let you know that ALL members in attendance really enjoyed your magic show. I have been with NEFDA for 13 years and I must admit that your performance was the best entertainment we have had to date."
— Patricia Burbidge, Secretary/Treasurer, New England Fastener Distributors Association
"The magic you performed for the Executive Officers at our State Convention in Hartford was truly fantastic. You added a real flair to our meeting with your tricks and your sense of humor is great."
— Mary Beth Hackenberg, Chairman, Executive Officers Committee, Connecticut Association of Realtors